Over 35 Years in Commercial Concrete and Masonry.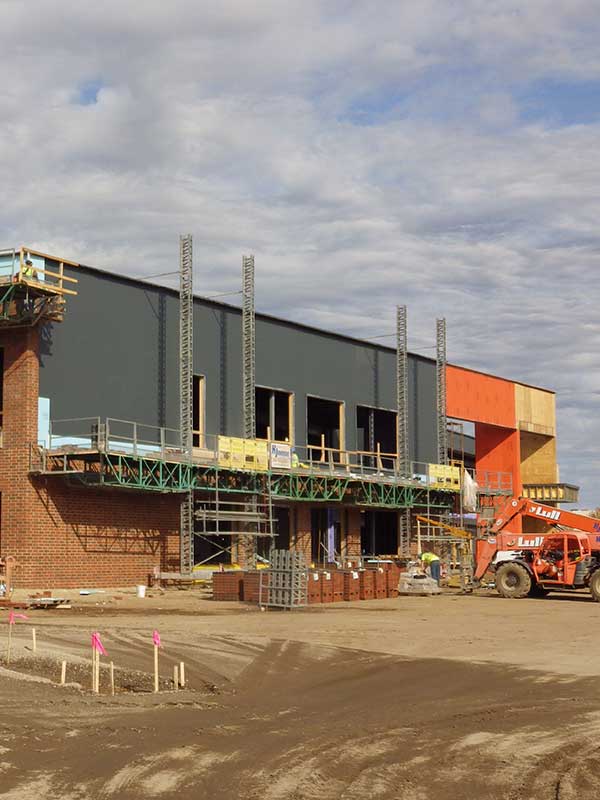 Concrete
From paving to toppings we have the experience and equipment to get the job done. Keeping safety in mind we have an unheard of EMOD rating for our industry.
Masonry
Whether you're looking to add brick or stone to your existing building or new construction project, K Johnson Construction has the knowledge and experience to give your build a unique and elegant look.
Conveying
Whether you want to place rock or concrete, pour footings, walls or flat work, MinnCon Services has the expertise to get the job done. Tilt-Up Concrete
Looking to fast-track your next project? K. Johnson Construction can expedite your construction schedule with the use of Tilt-Up concrete construction. This safe, cost-effective and speedy process allows the building shell to be erected in a manner that fits your budget, not ours.
"On behalf of CentraCare Health, I would like to offer a letter of recommendation for K Johnson Construction, Inc for the multitude of projects they have performed for our organization.  K Johnson has performed several jobs with the highest level of workmanship, attention to detail and quality while always looking out for our best interests.  From large/complex projects to small straight-forward concrete work, K Johnson has and will continue to be a trusted partner to CentraCare."
- David Larson | VP – Facilities/Support Services | Centracare Health
"As a CM/GC working with K. Johnson I have often felt like the project and the client have the privilege of having them on our construction sites. The professionalism and overall knowledge that starts in the office carries through to the site and the end result is what you would expect. There have been times the weather has not cooperated or the site conditions have not been perfect but instead of hearing frustrations we collectively figured out solutions to overcome the hurdle and get to a common end result. I have appreciated the relationship we have built over the years and would recommend K. Johnson to anyone that asked."
- Ryan Trosdahl | Project Manager – Medical | BCI Construction, Inc. 
"We have had the pleasure to work with the K Johnson Group on our current V.A. building project. To their credit their site supervision and employees proved to be well trained, knowledgeable in their respective positions and in general and communicative. They worked exemplary with the other trades on site and enabled the team to successfully bring the building out of the ground and ready for Precast through the coldest winter in over 16+ years. Erik Johnson has shown throughout the process that his company has Integrity and is fair and reasonable in handling contractual issues. I would not hesitate to have them on our team in the future and sincerely hope we have the opportunity to do so."
 - Jake Heck Site PM | Superintendent | SSHO The Povolny Group